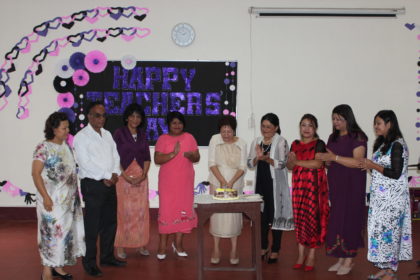 " It is the supreme art of the teacher to awaken joy in creative expression and knowledge". College of Teacher Education(PGT) Shillong, celebrated Teachers' Day with great gusto and gaiety on 5th September,2019 in the Main Classroom. The MC for the day was Mr. Dalinus Nongbet, of the 3rd Semester,who was very calm and organised, in hosting the programme. The welcome speech was delivered by Miss P. Elmolin Kharkongor,of the 3rd Semester, who gave a brief background to Teachers' Day and also acknowledged and recognised the hard work put in by teachers towards every child's development.
This was followed by a short skit from the 1st Semester student-teachers.The performance was a very entertaining one as it was filled with humour.
The Principal, Dr.( Mrs.)V. Kharmawphlang, then delivered an insightful speech and also mentioned how the day is marked as a day of reflection upon one's journey as a teacher.
After the speech, a scintillating dance performance by the male student-teachers of the 3rd Semester, was followed. The ambiemce of the room was lightened by this joyful performance. The saying, "Nobody cares if you can't dance well. Just get up and dance" by Dave Berry, proves definitely right after this wonderful performance.
This was followed by the Presentation of Gifts to the Teaching and Non-Teaching Staff.
After this,  the 1st Semester student-teachers showcased a Fancy Dress who succeeded in grasping the audience's attention by their huge talents.
Followed by this, a Vote of Thanks was delivered by Mr. Anjan Chanda,of the 3rd Semester, who did not fail to thank each and every member involved in making the event a successful one. Cutting of cake by the Principal alongside the teachers was followed soon after.
On the whole, the programme highlighted the importance of Teaching as a rewarding experience.On this Teachers' Day, let us reflect upon Teachers as trodding the untrodded path for the students' success, nourishing them as well as inspiring them.